Collaboration with Artist Yunhee Min "Red Carpet in C," UCR Culver Center, Riverside, California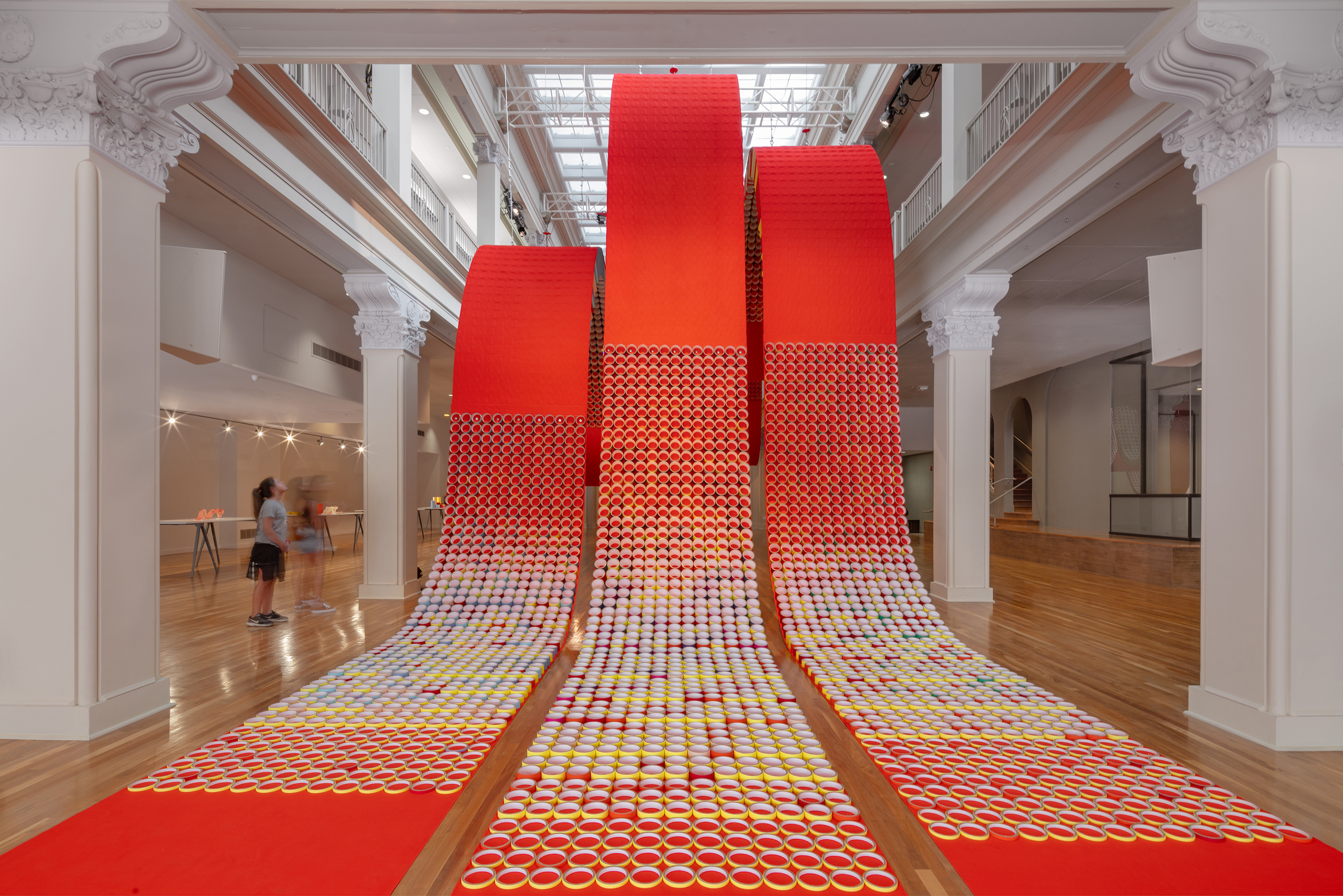 The large-scale installation Red Carpet in C is the result of a long-standing collaboration between architect Peter Tolkin of TOLO Architecture and the artist Yunhee Min. Its undulating fabric form is designed as both an object to be viewed and space to be inhabited. As architecture, the piece fits within the tradition of illusionistic ceiling painting that reaches back to the Renaissance. As art, the piece explores the perceptual characteristics of color as used in Min's paintings. Red Carpet in C is constructed of canvas fabric and more than 15,000 colored paper tubes. The heights and spacing of the cardboard tubes are used to control the specific parabolic curvatures of each of the bands. When the weight of the fabric falls, the tubes compress into the form of an arch. The design required the use of a parametric scripting program that could be continuously adjusted to ensure that the bands had the desired curvature. It is also what made it possible to calculate the exact location of the more than 300 varieties of tubes (given 28 sizes x 12 different colors). Once the piece was hung into place the curvature of the bands played off against the classical proportions, meter, and time signature of UCR's Barbara and Art Culver Center of the Arts historic atrium. 

Red Carpet in C is also about the connections that exists between music, art and architecture. This includes research into a variety of notational systems used to translate abstract ideas into projects that can be actualized: scores that can be played or plans made to build buildings. Of particular interest are avant-garde composers such as Morton Feldman and John Cage, who developed innovative and highly expressive graphic notational systems that allowed them to visually transmit their unique music. Both the undulating parabolic bands and pixelated color fields of Red Carpet in C can be read as translations of these sorts of musical notational systems into three-dimensions. The perceptual and physiological characteristics of color used as a kind of representation of musical tone, to add to the formal and experiential qualities of the piece. Perhaps the precedent that best relates to Red Carpet in C is the work of Iannis Xenakis, a composer who collaborated with the architect Le Corbusier to create the parabolic forms of the experiential Philips Pavilion. Le Corbusier described the pavilion as "a vessel containing the poem; light, color image, rhythm and sound joined together in an organic synthesis." Like the Philips Pavilion, Red Carpet in C employs a simple set of rules using repetition and variation (both color and curvature) to create a spatially evocative environment.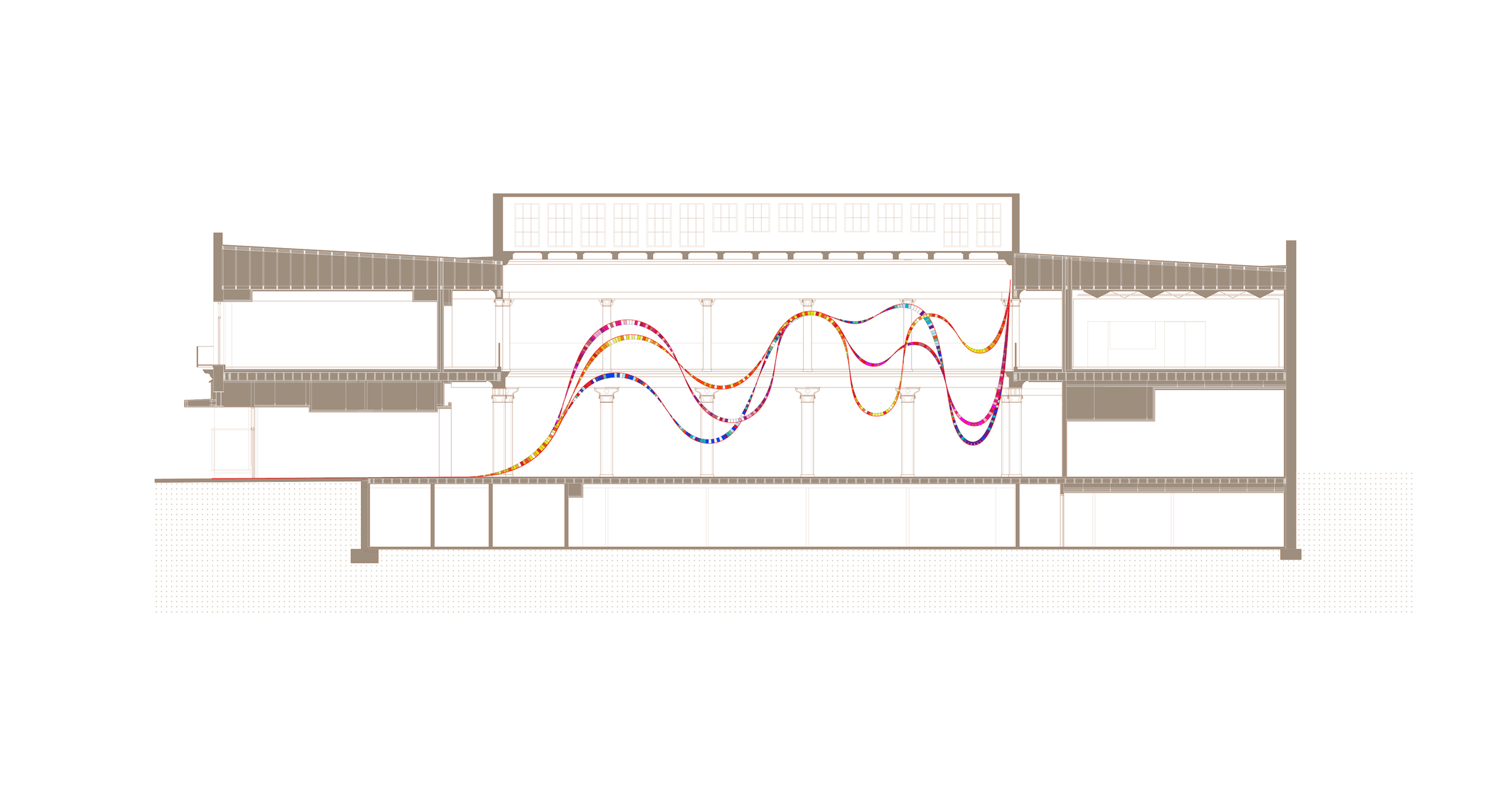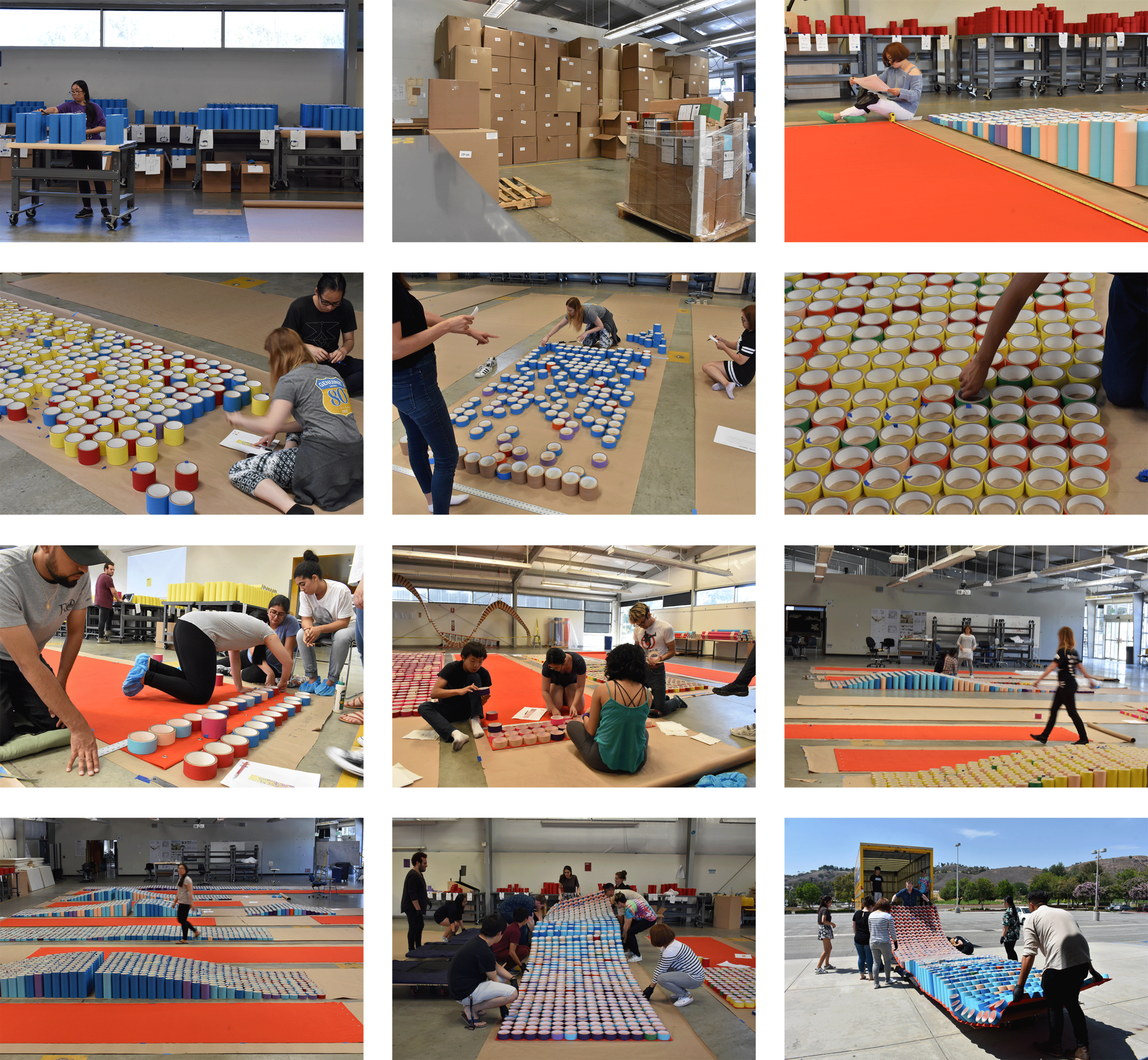 The making of Red Carpet in C
---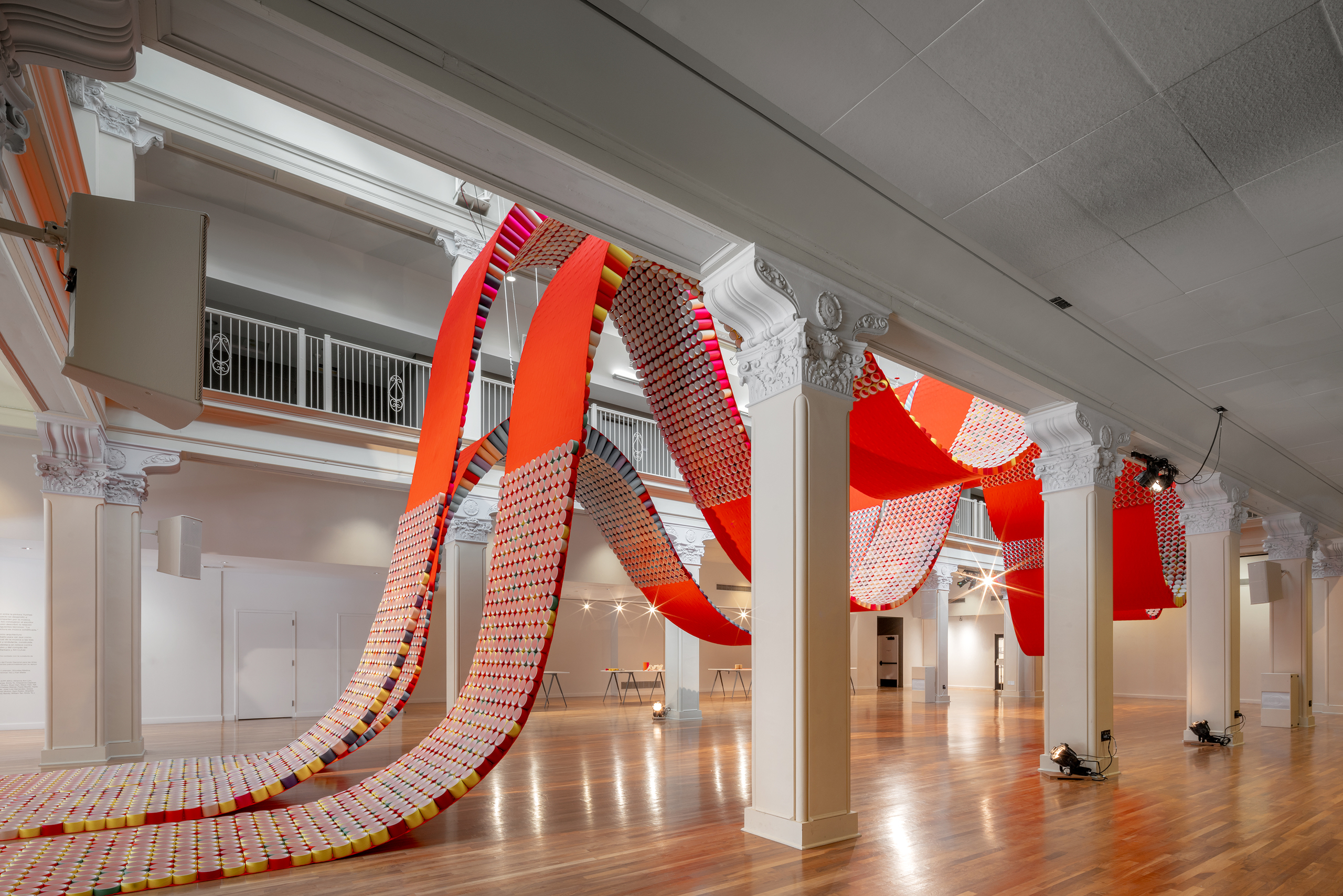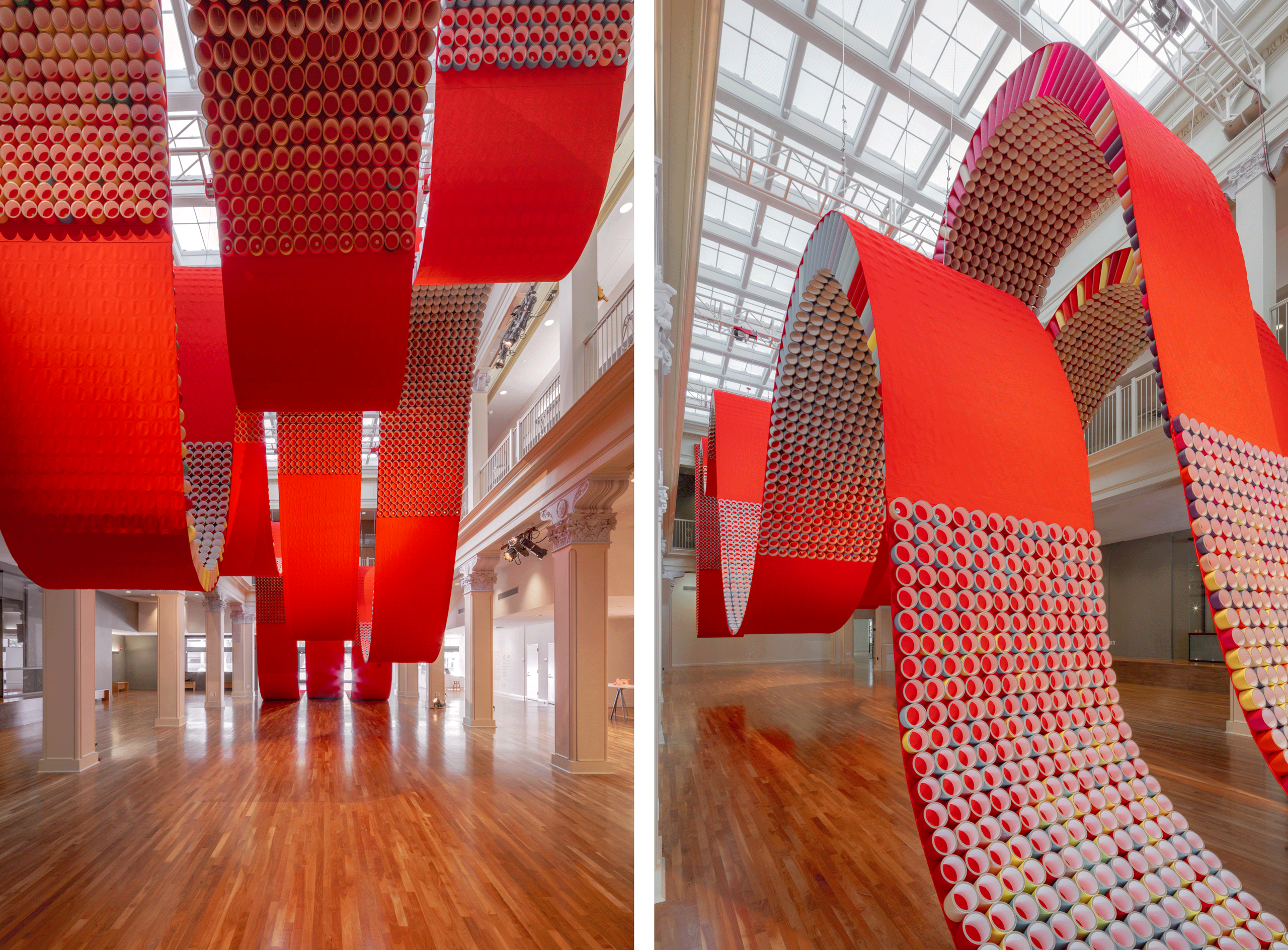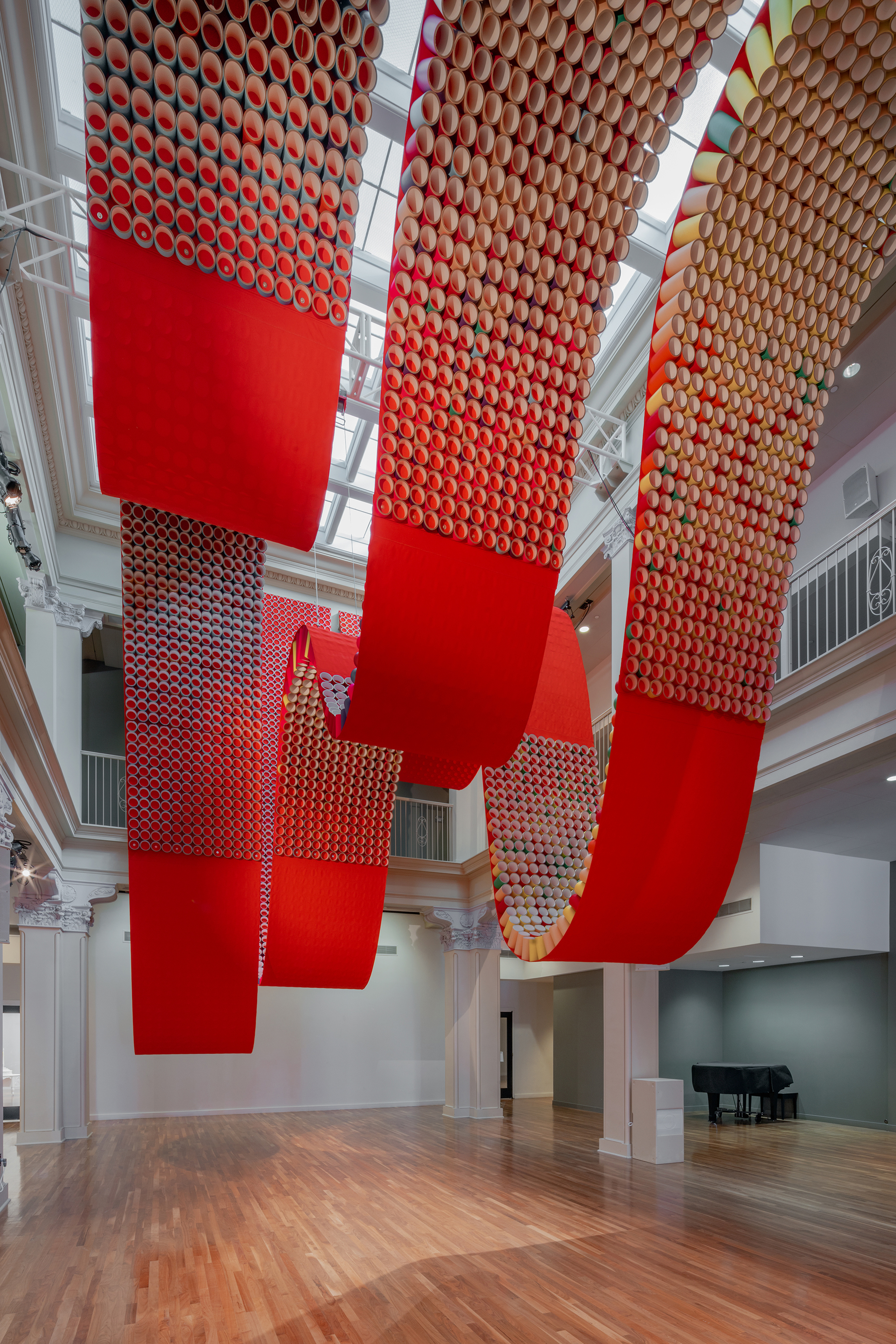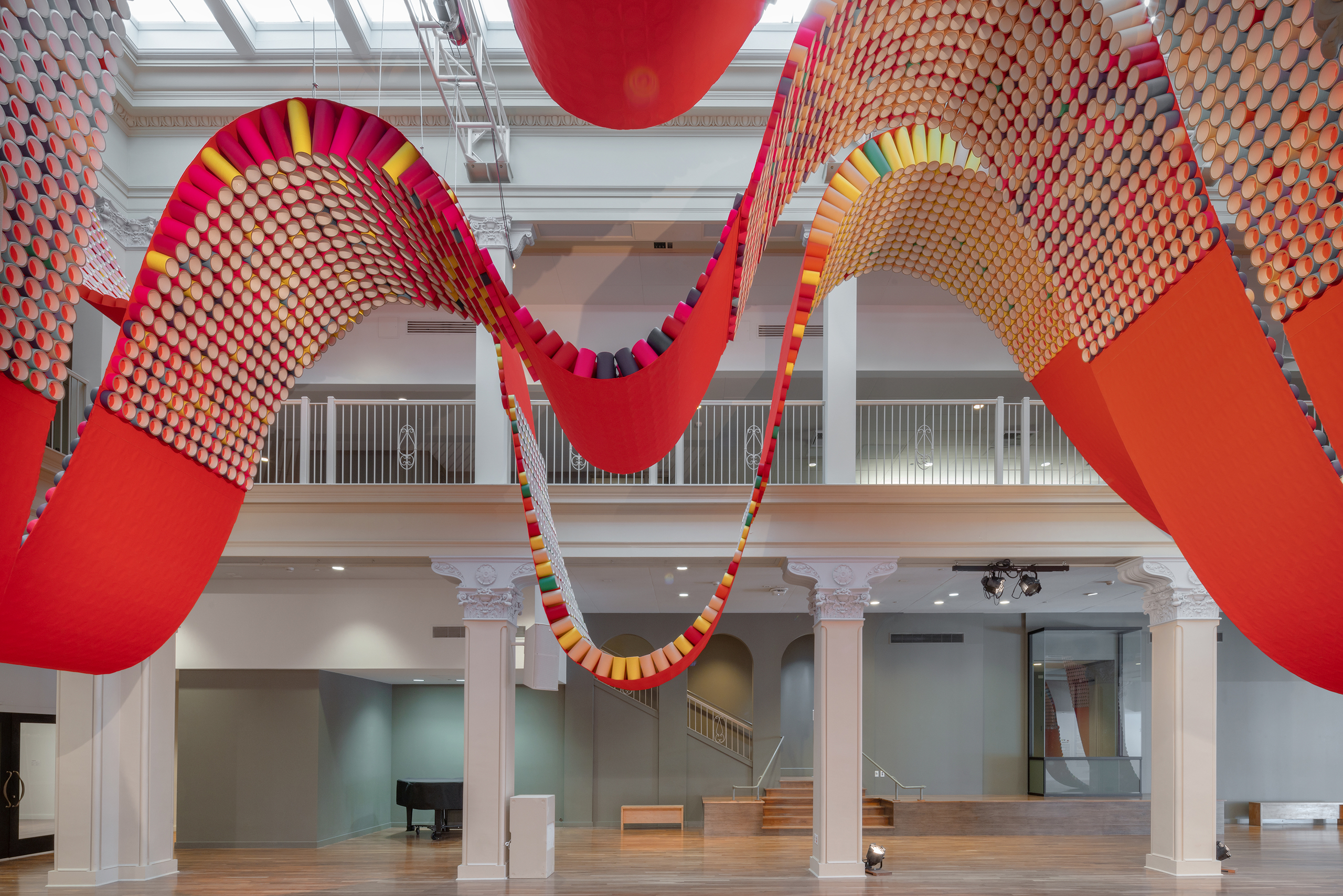 ---
SCI-Arc produced a video, directed by Reza J. Monahan, on the concept and the making of our large-scale installation Red Carpet in C. The video includes interviews of artist Yunhee Min, architect Peter Tolkin, and structural engineer Matt Melnyk from Nous Engineering.
---
TOLO Architecture team: Peter Tolkin, Sarah Lorenzen, Socrates Medina, Karl Kachele, Kare Tonapetyan, Parker Amman, Jeremy Schacht, Trenman Yau, Chelsea Rector, and Karl Blette.

Engineering: NOUS Engineering, Matt Melnyk

Cal Poly Pomona Architecture (CPP ARC) students: Athenna Ann Lim, Yewon Hong, Romi Anne Grepo, Victor Daniel Macias, Emily To, Cheyenne Capener, Vi Phan, Maria Mercado, Fariba Dorrifar, Matthew Rivera, Ryan Han, Kleon Tran, Tak Kin Szeto, Stephanie Contreras, Stephanie Toro, Chelsea Steiner, Paola Murillo, Karla Vich, Julie Habib, Kenza Abourraja, Karen Venegas, Jose Luis Hernandez, Grace Liu, Rusxanne Londonio, Son Vu, Osvaldo Gutierrez Muñoz, Sam Rubio, Sharifeh Diabdallah, Amaris Vazquez, Joseph Nandino, Emily Bandy, William Tan, Emily Ta, and Karla Camarena.

UCR Arts team: Tyler Stallings, Zaid Yousef, Cody Norris, Tim LeBlanc, Grace Saunders, Rene Balingit Jr., Samuel Cantrell, Ivy Son, and Jennifer Rodriguez Trujillo.
Photographer: Peter Tolkin