---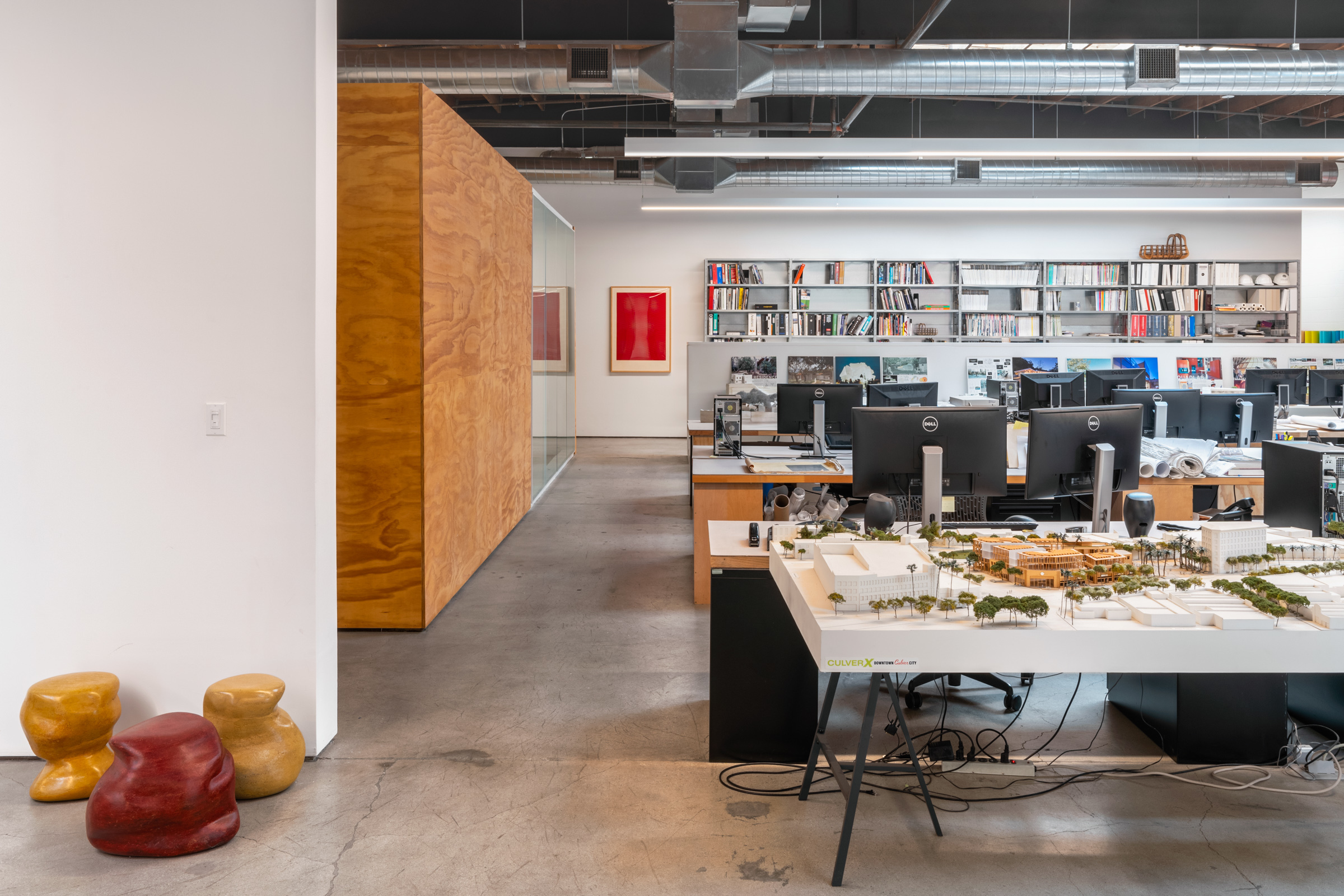 At TOLO, we believe that the character of our built environment profoundly affects quality of life, so we work very hard to respond with intelligent, creative solutions, while remaining attentive to the client's schedule and budget. Our portfolio is diverse, ranging from the design of arts-based projects, to single-family houses, to retail and restaurants, as well as larger projects such as hotels, multi-family housing, and mixed-use projects. Our approach is consistent across this range of projects, each design is developed in close working relations with the client, and with a careful determination of needs and constraints. We see every project as unique, with its own set of questions and opportunities, that demands its own design solution. We are proud that many of our projects have been cited for their level of inventiveness, social vitality, and accomplished craftsmanship in design awards and in publications. Our office space, located in an industrial warehouse in Downtown Los Angeles, contains a fabrication shop, which allows us to test the material characteristics of our designs by means of prototypes and scale models.
First established in 1998, the practice's early work, led by Peter Tolkin, focused on the revitalization and redevelopment of buildings in Old Pasadena, a historic downtown shopping and entertainment district. Peter's experience in Pasadena led to work in other cities, such as Los Angeles, Santa Monica, Malibu, and Long Beach. The practice has completed residential, retail and commercial projects throughout the region, including Pasadena's award-winning Saladang Song restaurant, the Sherman Residence in Encino, and the Sunglass House in Malibu. In Merced, the practice designed a series of mixed-use buildings, including retail storefronts and lofts, in conjunction with a comprehensive downtown revitalization. In Claremont, the practice was responsible for the planning of the West Village Expansion, a project encompassing retail, movie theaters, hotel facilities, and a town square. The practice's winning proposal for the development of a two city block mixed-use project called Metlox in Manhattan Beach created a public space connecting the city's civic center with its main commercial street. A number of these projects have received awards from the American Institute of Architects and many have been featured in publications such as Domus, The Los Angeles Times, The New York Times, Dwell, Architectural Record, and Interior Design.
Renamed after Sarah Lorenzen joined as principal, TOLO has built on Peter Tolkin's early success. Recent note-worthy projects include the Veilmetter Gallery in downtown Los Angeles, an art studio complex for a well-known artist, and several new houses in the areas affected by the Woolsey fire. 
If you are interested in speaking with us please email us at info@toloarchitecture.com
---
Peter Tolkin, AIA is managing principal of TOLO Architecture. Peter founded the practice, previously called Peter Tolkin Architecture, in 2002. He invited Sarah to join his practice in 2015, and they renamed the firm TOLO Architecture in 2018.  At TOLO, Peter advocates for the social and cultural agency of architecture, an approach informed by his prior work as a documentary photographer and his studies with American artists Allan Sekula and Lewis Baltz. Peter first rose to prominence in 2002 when Architectural Record named him one of its ten emerging international "Design Vanguard" architects. Since then his designs have been recognized with numerous AIA awards, a James Beard Foundation award, and with publications in the national and international press including The New York Times, Architectural Record, Dwell, Domus, Abitare, and Interior Design. Peter received a Bachelor of Arts in Art and Art History from UC Santa Cruz, a Master of Fine Arts in Photography from California Institute of the Arts (Cal Arts), and a Master of Architecture from Columbia University. Peter continues to practice photography as a complement to his architectural work.
Sarah Lorenzen, AIA is principal at TOLO Architecture and an architecture professor at Cal Poly Pomona (where she was chair from 2012-2016). Sarah has practiced architecture for more than 20 years, working on a variety of building types including residential, institutional, and arts-related projects. Prior to TOLO Architecture, Sarah worked as a project architect at a number of award-winning firms in Atlanta, San Francisco and Los Angeles. Sarah grew up in Mexico City and moved to the U.S. to attend college. She completed a Bachelor of Fine Arts (BFA) in Drawing at Smith College and at the Atlanta College of Art, and has two Master of Architecture degrees, the first from Georgia Institute of Technology and a second Masters in "Metropolitan Research and Design" from Sci-Arc. Sarah has published and edited numerous articles on architecture and urbanism, and she has received multiple design awards and grants including several Graham Foundation grants, a Fulbright Fellowship, and a six-week travel fellowship to China. From 2007-2020 Sarah was director of the Neutra VDL House overseeing the restoration of this National Landmark and developing cultural and arts programming.
Current: Trenman Yau, Hien Nguyen, Nyree Vertanessian, Philana Kim
Past: Brittany Jones, Shirley Hsu, Michael Pickoff, Socrates Medina, Albert Escobar, Ismaelly Pena, Denise Nugent, Parker Ammann, Lucia Sanjuan, Chris Crolle, Jeremy Schacht, Angela Uriu,  Maria Iwanicki, Nuri Miller, Christopher Girt, Ted Rubenstein, Dina Lopez, Matthew Trujillo, Bill Bungartz, Josh Avina, Alex Hernandez, Harold Ornelas, Natalie Magarian.
---
We are looking for a highly motivated Project Architect to collaborate with us on a variety of single-family residential, commercial, and arts-related projects (arts spaces and installations in collaboration with artists). 
Candidate should have strong technical and design skills, enjoy working collaboratively, and be capable of managing multiple projects with support from TOLO Principals (Peter and Sarah) and others in the office. Candidate should have a minimum of five years construction documents experience and have an interest in non-standard design and construction detailing. We are especially interested in people that have experience with custom single-family projects.
Desired Qualifications:
- Professional Bachelor or Master of Architecture degree
- 3-6 years of full-time work experience, including experience putting together Construction Documents and processing documents with the  building/planning department.
- Excellent design and graphic skills. 
- Excellent verbal and written communication skills, fluency in English.
- Skilled in the use of Rhino, AutoCAD, Revit, and Adobe Creative Suite (Photoshop, Indesign, Illustrator).
- Currently lives in greater Los Angeles (Note: we do not provide sponsorship for international applicants).
Please include a resume, relevant work samples, the names of 2-3 references with contact info as a pdf document (10 mb maximum) in an email addressed to: info@toloarchitecture.com
Please write "Project Architect Position at TOLO" in the subject line. Salary will be commensurate with ability and experience. 
No telephone calls please.
---
Address: TOLO Architecture, 1024 Wilde Street, Los Angeles, California, 90021
Phone: 1 213 278 0678
Email: info@toloarchitecture.com
---
Excellence Award, Residential Concrete Building Category, Southern California Concrete Producers, Sunglass House
Award of Excellence, Design Concept Category, Los Angeles Business Council, Pasadena Bike Transit Center
Merit Award, American Institute of Architects, Pasadena / Foothill Chapter, Metlox Development
Merit Award, American Institute of Architects, Pasadena / Foothill Chapter, Marmion Court Housing
Excellence in Design Award, Architecture Category, City of Claremont Architectural Commission, Claremont Village Square
Excellence in Design Award, Public Art Category, City of Claremont Architectural Commission, Claremont Village Square Fountain
Merit Award, American Institute of Architects, Sunglass House
Honor Award, American Institute of Architects, Pasadena / Foothill Chapter, Saladang Song Restaurant
Certificate of Recognition, California State Assembly, Saladang Song Restaurant
Architectural Record's international "Design Vanguard"
Citation Award, American Institute of Architects, Los Angeles Chapter, Saladang Song Restaurant
Restaurant Design Award, James Beard Foundation, Saladang Song Restaurant
Creative Design Award, Pasadena Beautiful Foundation, Saladang Song Restaurant
Excellence Award, Southern California Ready Mixed Concrete Association, Sherman Residence
Whittier Conservancy Award, Flag Shop
Long Beach Historic Society Award, Z-Gallerie